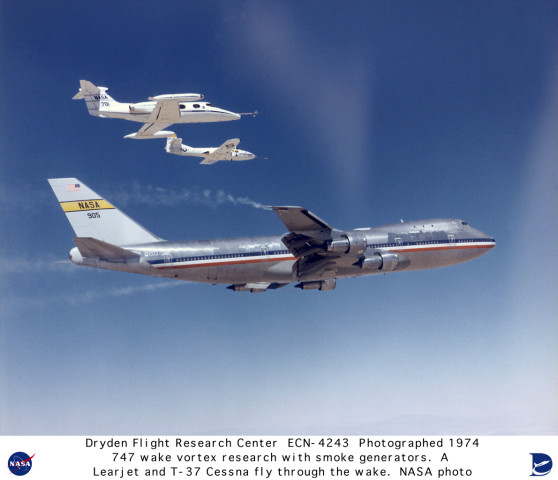 c5load: We're much, much more aware of where those vortices are, and can adjust our position to avoid them.
Also, separation between aircraft is also for safety during abrupt, unexpected maneuvers, not just for vortices. I'm talking directly to the other aircraft in my flight so I'm aware of when abrupt turns will happen.. if I'm in front, I know the position of the other aircraft to be able to avoid turning in a way that endangers them. Commercial aircraft don't have a lot of direct communication with other aircraft without preplanning frequencies.
WRSaunders: Military pilots are securely attached to the plane and willing to tolerate much more extreme maneuvers than commercial passengers. To reduce the "fear of flying" and avoid spilling drinks, commercial aircraft desire a much more stable ride.
Why-so-delirious: It's like watching a race car go down a track at 300 kilometres an hour, compared to a bus full of 50 people doing forty on a city street.
If a bus went 300 down the street with another bus a half-second behind it, I don't think any of the passengers would be getting on that bus ever again.
Sack_Of_Motors: Aerodynamic factors of vortices can be avoided by flying in proper formation (either with step up or step down, depending on the situation (step up being vertical separation from cockpit to cockpit)). Military aircraft (including helicopters) fly tight formation to decently sized aircraft (C-130s, KC-10s, etc) all the time during in flight refueling and that's generally not too problematic (as long as it isn't too turbulent).
Legally, it's because the FAA requires something like… I think at least ~~1~~ 3 miles laterally and 1000 feet in altitude (I should know this) between each aircraft on an instrument clearance (which pretty much all commercial flights have). Military aircraft can declare MARSA which is "Military Assumes Responsibility for Separation of Aircraft." This relieves ATC of the 1 mile/1000 feet separation requirement and so the military pilots are now flying formation off the lead aircraft.
Edit: After some google-fu, it looks like lateral separation is 3 miles in a terminal environment and 5 miles en route, with (generally) 1000 feet of vertical separation. Source: FAA order 7110.65, 4-5-1 and 5-5-4.
nightmaremode: Normal aircraft separation under Instrument Flight Rules is defined in FAA Order 7110.65. Either 1000 feet vertical or 3 miles lateral separation (more if dealing with Heavy aircraft and aircraft on final approach if different weight classes). You can have less than this if flying under Visual Flight Rules (see and avoid). Military aircraft flying in formation use a rule called MARSA – Military Assumes Responsibility for Separation of Aircraft – in which they fly under one flight plan as essentially one aircraft for purposes of ATC. Military planes doing exercises in restricted airspace are flying under VFR, and are responsible for their own separation.
Source: former military and civilian RAPCON/TRACON controller.
EDIT: pointed out by another user that MARSA is Military Authority Assumes Responsibility for Separation of Aircraft. I accidentally a word. Been out of the aviation industry for about 7 years.
mxx321: Wake turbulence is a by product of the lift being produced by the wing. The heavier the plane, the more lift that needs to be generated, therefore the wake turbulence will be greater.
An aircraft will produce the most wake turbulence while flying at a heavy weight, at a slow speed and in a "clean" configuration (no flaps, or minimal flap settings).
Once the aircraft is accelerated in cruise flight for example, the wake turbulence is still there but it is dramatically reduced. Military aircraft flyijg in tight formation are usually in this cruise phase of flight.
We have seen a couple high profile wake turbulence upsets at cruise altitudes recently, the Challenger 604 vs the A380 over the Middle East had garnered a lot of attention from the industry because it highlights the risk of wake turbulence upsets outside the terminal area.
In the arrival phase, ATC provides anywhere between 3-6 miles of lateral separation. Certain pilot techniques can be applied while landing to avoid wake turbulence but it is invisible so there is only so much you can do.
While flying an approach behind a 767 or 747 used to keep me on my toes, now I'm also worried about the wake turbulence more and more at altitude. I will be crossing the Atlantic at 40,000 or 41,000 feet which usually puts you above most large airliners exceptttttt now the 787 Dreamliner can be found anywhere between 40,000 -43,000 ft.
It's a lot harder to shit post on Reddit at 40W when you have to worry about Dreamliner McDreamliner face coming opposite direction 1000 ft above you.
man2112: I've done formation training in military planes. There's several factors at play here that allow us to fly several Feet away from each other:
1. We've briefed with the crew in the other plane. We know them and have established a general plan for how the flight will go, and what manuevers we will do.
2. We use standardized hand signals to tell the other crew what we're doing, and look for the standard reply that they've acknowledged our signals.
3. We have a discrete radio frequency that only the two of us (or however many are in formation) are using. The primary method to pass info is hand signals, but we have the radios as backup.
4. We're trained in how to avoid prop/jet wash, and how to recover from it safely without hitting another plane in the event that we do encounter it.
5. We maintain proper positioning. It sounds crazy, but when you're flying in formation, the closer you are the safer it is. If I'm flying wing, and I'm tucked up close in parade position, I can detect if anything is wrong sooner and easier than if I'm farther away in trail or chase position.
6. Lastly, if anything goes wrong, we've briefed and thuroughly discussed just about every contingency plan. We know what we need to do and what the other plane will do if we lose sight of each other, lose radio contact, fly in to the clouds, have an engine failure, run in to each other, etc. We spend hours talking about this before each flight.
Of course if things get too bad (like we ran in to each other and lost a wing) there's always the option of pulling the ejection handle. Obviously it's not the first choice, or the second, or the third, but it's there.
Airliners that are flying at altitude, and being routed on instrument flight plans have none of this.
1. Theres no reason for flying closer than they already are.
2. They're less manuverable.
3. They likely have zero training in formation flight
4. They've probably never met each other before, and certainly didn't discuss flying formation before they took off. It's an FAA requirement that any aircraft that will fly formation with each other have prior knowledge before takeoff.
brngrhm84: Air traffic controller here, this won't exactly be ELI5, but I'll do my best.
The way this question is being asked is actually confusing two separate things that we have procedures for in ATC. The vertical and horizontal separation that we use doesnt have anything to do with wake turbulence, it has everything to do with not letting the aircraft physically collide with each other. If we allow two IFR aircraft to get closer than that without ever establishing visual separation, then we get in major trouble.
Wake turbulence is not to be confused with Jet Blast or prop wash. Wake turbulence is a horizonal vortex emanating from the wingtips that starts as soon as the aircraft's nose lifts off the run way and stops when the aircraft touches down for a landing. The vortex can persist for several minutes, descends slowly at about 300ft per minute. In still air, the vortices will move away from the aircraft as they descend in opposite directions, but a crosswind can cause one of the vortexes to stall over the runway. This is where the danger lies. If a small aircraft flew into a strong vortex created by a large heavy aircraft, it can cause the entire aircraft to rotate along the axis that runs from nose to tail, flipping it upside down and causing an unrecoverable crash.
We do protect for wake turbulence, but not by using the 3 miles horizontal or 1,000ft vertical rules. We restrict the distance that aircraft can follow behind another aircraft as they are coming in to land on the same runway. The larger the aircraft in front is, the larger the distance we put between them. We also restrict aircraft from taking off behind a departing aircraft by a certain time interval, the heavier the aircraft in front, the more time we wait before authorizing a takeoff. Once the appropriate time interval has passed, the vorticies will have had enough time to dissapate and will no longer be a factor.
BTW, this can be confusing, the terms, small, large, heavy, and super that we use dont refer to the SPECIFIC weight of the aircraft at that time, those aircraft fall into their respective catergories regardless of how much they are carrying. A fully loaded C130 will still just be a large, a completely empty C17 will always be a Heavy, etc etc.
Further more, when talking about "military aircraft flying closer together", its important to distinguish between things like refueling operations, standard/nonstandard formation flights, and aerobatic airshow type blue angles formations. For things like refueling operations, wake turbulence absolutley is a factor and the aircraft flying behind to get the fuel have to take it into account as they approach the tanker. When the only aircraft involved are fighter type aircraft like F18s, wake turbulence isn't strong enough to really have a noticible effect on the aircraft trailing in the formation. As for the blue angles, those guys are just plane nuts.
joeysaps: ELI5: What is this question asking?
jimthesoundman: I'm not an expert, but from what I've observed, the military planes like the Blue Angels fly side by side, so all the vortices are behind them.
Second, the military pilots are trained to deal with an injured/damaged/partially disabled aircraft so their skills might be more oriented in that direction. Plus the plane they are flying is much more maneuverable than a jumbo jet.
Third, commercial airlines want to avoid vortices because they cause bumpy rides, and then passengers complain. Plus the horizontal and vertical separation just makes more sense from a safety standpoint also.
cataract77: You know how people like to say routine flying is safer than driving? Not the case in the military. Even at peacetime.
geek66: You do not really see them close, and ot the aft of AF1 for example, mostly I believe it is the size of the plane. That is why commercial airports hate GA light aircraft, I think you have wait 3 minutes after a heavy takes off to completely screws up the timing.